Kids Martial Arts Classes In New Braunfels
Kids Martial Arts Classes Offer An Exciting Way To Build Confidence, Respect And More!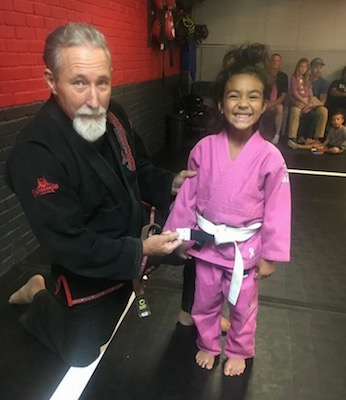 Give your child the best chance to succeed with our high-energy Kids Martial Arts Classes in New Braunfels. Perfect for students of all ages and abilities, our classes at Family Jiu Jitsu offer an exciting blend of stand-up karate and Jiu Jitsu training.

Plus, each class covers important topics like bully prevention and peer pressure and provides students with a foundation for lifelong success.
Find The Kids Martial Arts Class That's Perfect For Your Child
Our goal at Family Jiu Jitsu is to surround students with new friends and classmates who can motivate them and make each class fun and exciting. Our dedicated instructors work with students of all skill levels - no prior experience is required!
Our Kids Martial Arts Classes In New Braunfels include:
Ages 4-7: Our introductory course gives students the fundamentals of movement and coordination. These little ones learn the importance of teamwork and communication and begin to understand focus and attention in a fun environment. Your child can build:
Body control and motor skills
Comfort in social situations
An ability to follow directions
Great memory and retention
Ages 7-14: Whether your child is just starting out or they've graduated from our younger program, these Kids Martial Arts Classes are the perfect way to build well-rounded athletic skills, learn self-defense in a fun environment, and face challenges like bullies and peer pressure. Students quickly develop:
Strength and agility
Respect for others
Self-defense skills for the real world and competition
Confidence in everything they do
Daytime Homeschool Training: Coming soon! Give your homeschooler an exciting break from school work with a structured martial arts program that keeps them active and engaged.
Students 15 years and older are invited to participate in our Adult Martial Arts program. Click here to learn more today!
Kids Martial Arts Training Can Serve Your Child For Years To Come
It's true that our classes are fun and exciting. But we take pride in offering a value that lasts so much longer. With the help of the traditions of Karate and Jiu Jitsu, we help students in our Kids Martial Arts classes develop a wide range of skills that can serve them in all aspects of life. Whether it's at home, in the classroom, or even into adulthood, our program can help your child thrive in everything they do.
Our Kids Martial Arts students learn:
Discipline and attention to detail
Lifelong habits of physical activity
An incredible sense of accomplishment
Perseverance and determination through any challenge

Don't Miss Out! Join Us Today For The Best Kids Martial Arts Classes In New Braunfels!
Kids today need a little extra push to stay active and away from too much screen time. They want to be excited and motivated and driven by a series of accomplishments. That's why our Kids Martial Arts Classes at Family Jiu Jitsu make it easier than ever for your child to learn and grow and benefit from all the lessons martial arts training can offer.
Ready to get started? Just fill out the short form on your screen to learn more about everything we have to offer in New Braunfels. We'll be happy to answer all of your questions right away!